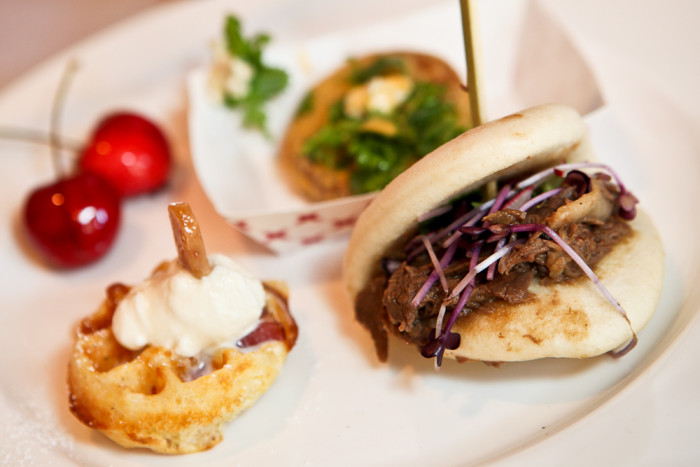 The great inventor of culinary vocab Josh Ozersky recently coined the term lardcore to describe the balls-out cooking taking place in Southern kitchens — where locally raised animal fat is treasured like uni and methodically worked into something mind-bendingly creative. And delicious.
Yesterday's Grand Cochon on the final day of the Aspen Food and Wine Classic was lardcore to the core — a type of offal exhibition rarely seen outside of a Fergus Henderson visit to the Spotted Pig. 10 chefs from around the country were flown to Aspen with one goal in mind—to cook the living shit out of a particular breed of heritage hog. Red Wattle, Hampshire, and Berkshire were all represented. Each chef knew the drill going in, as they had qualified in their respective city by winning the local Cochon555 event held over the course of the year. I'm pretty sure I damaged something in an effort to sample the over 30 dishes presented. Some highlights:
The VIP hour held prior to the gates opening featured a nice spread of cheese, a packed raw bar, and wine glasses shattering. But no pig was to be found.
Nobody had been fasting for the previous 12 hours (hand in the air) for a dollop of tomme crayeuse. BRING ON THE PORK.
The judges entered a large ballroom at the Jerome Hotel a bit before 3:30 p.m. They looked serious. Spotted: Food & Wine Best New Chefs George Mendes, Stephanie Izard, and Carlo Mirarchi, Jacques Pepin, Andrew Zimmern and Susan Fenniger. I was told that more than one person asked to judge turned it down due to the amount of pig they were being required to consume. #firstworldproblems
Chicago chef Michael Fiorello (Mercat à la Planxa) cooks Catalonian for a living, but traveled all over the world with a trio of dishes: a bowl of ramen, smokey mortadella sandwich and whipped lardo topped with shaved truffles. Much respect to the affable Jose Garces protégé. Especially since I found him hanging out pretty late the night before. Or was that morning?
The how to butcher a whole animal demo was disturbing. It's always disturbing.
What did Seattle chef John Sundstrom (Lark) do with his Hampshire? He blew my mind with a pork belly ice cream sandwich—essentially salt-caramel ice cream topped with chicharones. His pork, lemongrass, and crab sausage was the big winner though.
New York chef Brad Farmerie (Public) served mini jars of pork rillette. I liked his waffle the best—topped with stewed apples and a vinegary syrup.
Los Angeles chef Chad Colby (Mozza) lost his voice from describing his dishes. Mostly because he served around 39 of them. Charcuterie (capicola, testa, mortadella). Picked vegetables (fennel, carrots, Asian peppers). A trio of pates served on a single cracker. And the setpiece — a moist porchetta with the smokiest, creamiest beans we've ever had. Batali has got a star chef on his hands.
And most importantly the winner. Though Santa Rosa's Zazu was not my pony for the evening (that would be Lark), the winning dishes from chefs Duskie Estes and John Stewart were still very impressive. A pork bun was constructed with bits of head, heart, and neck. A fried trotter looked more like fried green tomatoes, but revealed the tender meat upon cracking the golden crust.
Pass the Lipitor.