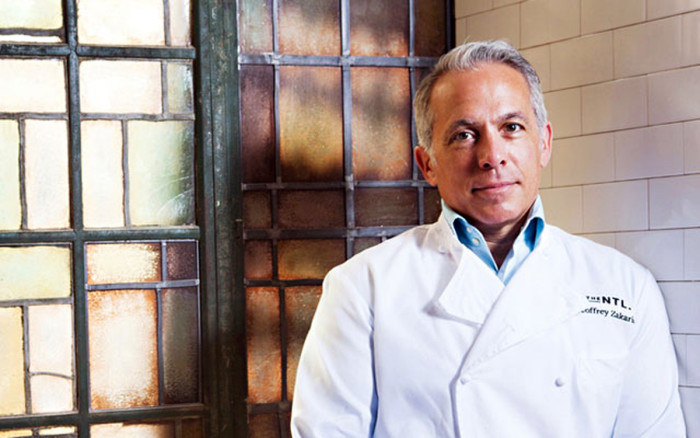 Chef Geoffrey Zakarian was classically trained and began his storied career on the line at NYC's Le Cirque alongside such other young upstarts as David Bouley and Terrence Brennan. But he is most known for bringing sexy back to hotel restaurants. Beginning with "44" at NYC's Royalton in the late 1980s, and including The Blue Door at the Delano in Miami, Town at the Chambers, and Country at the Carlton—which was awarded a Michelin star, but which closed nearly three years ago.
Strangely, despite having two new restaurants and other more recent projects in the works, it's Country that has landed him in the news this week, after The New York Times ran a biting article about a lawsuit and a personal bankruptcy case involving Zakarian.
Here at Food Republic, we know Zakarian as a stylish guy whose passion about food, cooking, and service are nearly unsurpassed. He's working hard to run the food and beverage program at the Water Club at the Borgata in Atlantic City, and in late 2010, Zakarian opened two new New York City hotspots—the National at the Benjamin Hotel and the Lambs Club at the Chatwal Hotel—creating dozens of restaurant industry jobs at a time when the economy was just starting to rebound. We sat with Zakarian recently to discuss food, fashion, and kitchen design.
How are food and fashion linked for you?
Food is so like fashion, in that the classics are the most important thing. At the end of the day it's all about mastering the basics and having a foundation that you can build from. It's like someone who knows how to adjust a hemline just that fraction that no one else might see, but it's what makes the silhouette.
I used to watch Anna Wintour when she came into the Royalton—fashion is all about attention to detail and having a vision. Just like cooking. There are a lot of wrong ways to make an omelet, but when you have those basics down you can create something nearly transformational. And in fashion, there are lots of ways to create something wrong, but then you get a Balenciaga and again it's transformational.
Everything I do is about the classics. You can't go forwards without going backwards. But food and fashion are both subject to trends. Food goes through similar style trends as fashion. And you need to understand that to achieve something timeless.
You are known for having highly stylized restaurant kitchens. How would you describe your aesthetic?
I first look at the space as somewhere we are going to want to be. We spend up to 80 hours a week in a restaurant kitchen, so you want it to be a place where you want to be.
Lighting is important. Bright enough, but not too harsh. Also I use lots of blues and grays, very human colors, very calm, soothing colors.
And size is key. Open kitchens are great for service and for diners, the design of the dining room, but for me, the kitchen needs to have space. If I'm building from scratch, ideally the restaurant space needs to be split 50/50 between front of the house and back of the house. You have to focus on what is important and what you want to do. Everything happens from the kitchen out.
What about home kitchens?
Well some of those concepts carry over. Make it a place you want to spend time. Consider the colors and lighting. But to create a successful home kitchen is very personal: think of the right tools, the right format to fit your lifestyle.
Invest in quality ingredients and a good environment and you are setting yourself up for success.
I'm not a big gadget guy. You need a thermometer. And invest in some good knives and pots and pans—buy stuff that will last you forever. Go out and buy some All-Clad that you will keep rather than cheap pots you will toss every year.
I see my friends going out and buying $300 worth of gadgets, I say take that $300 and take a few cooking lessons, knife skill classes. Those are going to help your cooking be a success more than any gadget. Cooking isn't always easy, and you are going to make a lot of mistakes and burn shit along the way. Food is alive, there's heat, timing, fire. You will have good days and bad days in the kitchen. The trick is to string together the good days.
Other Chef Talks from Food Republic:
---